Cyberpunk 2077 is a demanding game capable of bringing even the most powerful rig to its knees. PC users are hard at work exploring all that the game has to offer and its plethora of settings. For those wondering what current tech can do in 8K, TweakTown has done just that. Here's the test rig that was provided by MSI.
Test PC Specifications
Processor: Intel Core i9-10900K
CPU Cooler: MSI MAG CORELIQUID 360R AIO RGB
Motherboard: MSI MEG Z490 Unify
Memory: G. SKILL Trident Z Royal Gold DDR4 32 GB (2 x 16 GB) 4000 MHz (CL 19)
GPU: MSI GeForce RTX 3090 SUPRIM X
Storage: Sabrent Rocket Q 8 TB m.2 2280 NVMe PCIe 3.0
Power Supply: MSI MPG A850GF
Case: MSI MPG Sekira 500X
Display: Dell UP3218K
The testing involved a number of settings, which include ray tracing and DLSS. To ensure that both technologies were being used to their fullest, the author focused on an area with a good deal of reflections and lighting. At the Ultra preset, it became clear that even NVIDIA's flagship GPU cannot cope with the game in 8K. That 24 GB of VRAM was not enough, and FPS dropped to an average of 6.6. But with ray tracing and DLSS at Ultra Performance, an average of 31.3 FPS was achieved.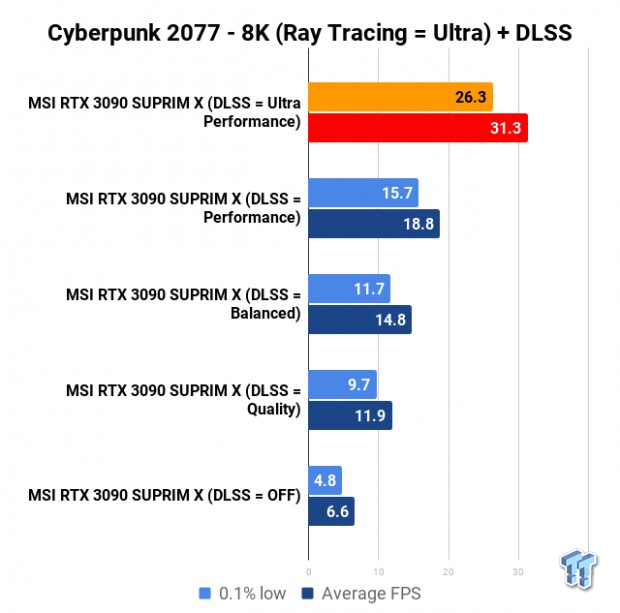 We have got a long way to go before the game will be playable at 8K. On the plus side, NVIDIA's DLSS technology continues to show impressive results, gaining nearly five times as many FPS here. It also goes to show that Cyberpunk 2077 will be useful for benchmarking.